Saludi Favorite Drink Recipes for 2023
Like one of our delighted Saludi Glassware customers once said, "Wine just tastes better in nice glasses." With Saludi's beautifully colored glasses, you're already on the path to a fantastic experience!
We thought it would be awesome to share some of our all-time favorite drink recipes to complement your stunning glassware collection. Here's a quick rundown:
For the Adult Beverage Enthusiasts:
Espresso Martini

 

- Served best in our elegant coupes.
Champagne Bar Setup

 

- Elevate your bubbly experience with our flutes and coupes.
Dessert Bar Delight

 

- Coupes add a touch of sophistication to your sweet indulgences.
Sangria Extravaganza

 

- Enjoy the Spanish classic in our charming wine glasses.
Negroni - A Timeless Bitter Elegance
Mojito - A Refreshing Classic
Caipirinha - Brazil's Citrusy Delight
Lulada - Colombia's Tropical Refreshment
MockTails for the Non-Alcoholic Aficionados:
Southern Iced Tea

 

- Sip away the Southern charm in our versatile stemless wine glasses.
Virgin Mojito (Nojito) - A Refreshing Citrus Delight
Virgin Piña Colada - Tropical Bliss in a Glass
Virgin Mary - A bold and Spicy Mocktail
Cucumber Water - Cool Hydration with a Twist
Homemade Lemonade - A classic Thirst Quencher
Sparkling Water with Fruit - Effervescent Hydration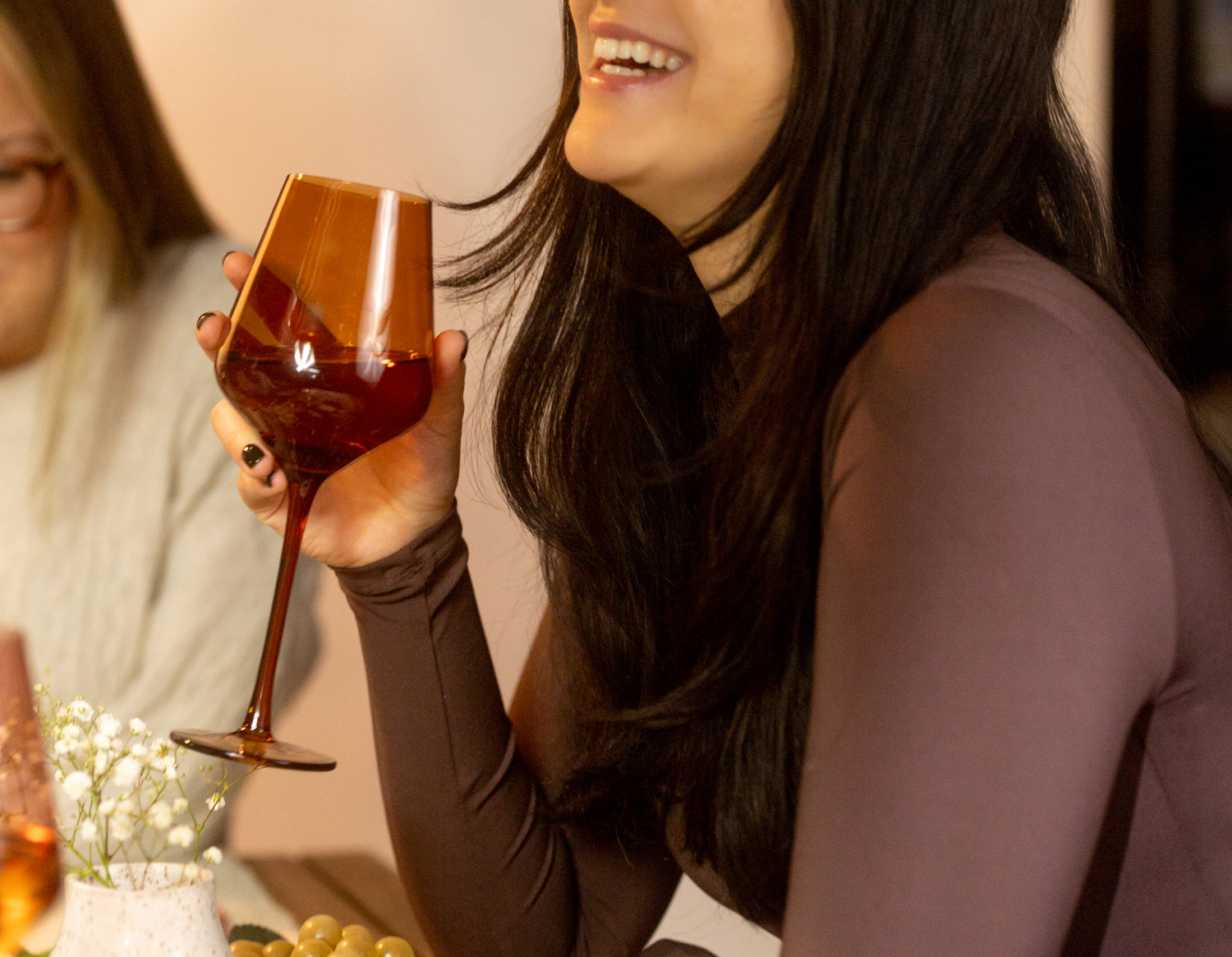 A note from Dani - Founder Saludi Glassware 
As a Latina, I grew up gathering with family and friends, toasting to life's great moments. Whether it's birthdays, holidays, weddings, or you name it, there was always a reason for bringing our community together and for celebrating. 
That is why I started Saludi in Denver, CO - to bring our community together and support each other with products that are way too pretty not to be used. We took a new approach and created products that inspire through colorful beauty (and make drinking more fun). Our work is showing that there's more than the black and white of life, but a gorgeous spectrum of colorful and beautiful moments.  
Cheers l Salud l Saúde to stylish and unforgettable celebrations!  
Dani and the Saludi team 💕 
FAQs
What is the meaning behind the name Saludi? 

We wanted a name that helped define the celebratory and joyfulness of our company and products. In Spanish, "salud" means: "health," "wealth," and "security." Salud is used to say "Cheers!" ("To your health!"), and this encouragement is something we wanted to embody as an organization.
Your products are beautiful

Thank you! We aim to create beautiful products that will actually be used, not tucked away in some cabinet to never see the light of day. If it's pretty enough to leave out, we think that we'll naturally find more reasons to celebrate and bring people together.By the way, we LOVE seeing pictures of how you display your glassware, so feel free to tag us @saludiglassware!